STAND
OUT FROM THE CROWD
Versatility ~ Convert to Clutch, Fanny Pack, Crossbody, Shoulder
Individuality ~ Your choice of fabric, straps & buckle
Practicality ~ Reversible bags from repurposed clothing ~ Pickleball, Tennis, Computer, Diaper Bags, & more ~ Customized for you
Are you ready to create your own customized bag?
Envelope ~ Versatile. Strap adjusts to wear as a Crossbody, shoulder or Handbag. Fold into a Clutch, or use the strap as a belt for a Fanny Pack. Handy front zippered phone case & mask pocket. Matching mask. Optional matching wallets.
Sweethearts ~ Heart Shaped purses 9″x9″ with 8″ zippered phone case & mask pocket. Matching mask.
NEW FOR THE SUMMER!
Fruities ~ Just like Envelopes, but with large fruit on the flap and a fruity print .
Jeanies ~ Reversible denim bags lined with a print. Most have a handy key pocket behind the fly. Various colored straps. ~ Choose a style to suit your needs ~ Pickleball, Tennis, Computer, Diaper Bags, & more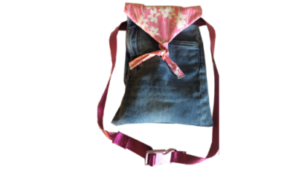 Mini-Jeanies ~ Half jeans including fly pocket. Reversible. Converts to Clutch
Jackies ~ Made from Jackets, Blouses, Skirts, Dresses, etc. Pair best with plain fabric if clothing has a print.
Softies ~ Made from Soft Furnishing Upholstery or Curtain fabric.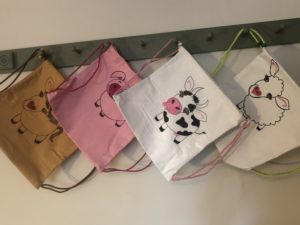 Drawstrings ~ Something for everyone ~ Animal, tropical, fun for kids of all ages.
DON'T FEEL
LIKE DESIGNING YOUR OWN?
pre-made bags available
envelopeS
I can make optional matching wallets.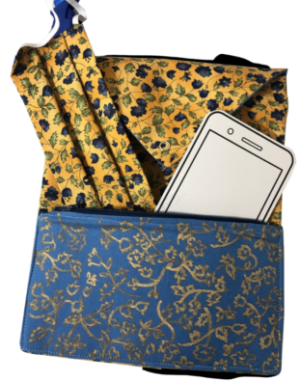 Gold floral & custom design gold on blue. 8″x10″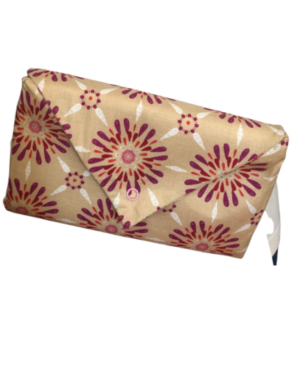 Celeste & Purple Bamboo 5″x4″ key pocket inside.
Marrakesh & custom design gold on black.
FRUITIEs

~ ~ ~
Just like Envelopes, but with fruit on the flap.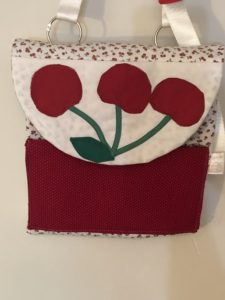 SWEETHEARTs

~ ~ ~
All bags are 9″x9″. Sizes vary in size by depth. Small~1.5″ deep to 3″ deep~Large
Mariposa & Laura 3″ deep
Faux leather & floral "satin" 1.5″ deep
Red Hearts & Polka 3″deep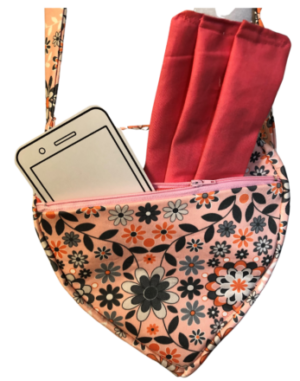 Flower Power & Coral 2.5″
JEANIES ~ ~ ~
Blue reverses to blue floral 17″x9″x2″ Pocket in buttons, belt tie. This was a jacket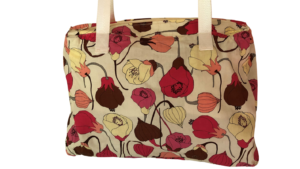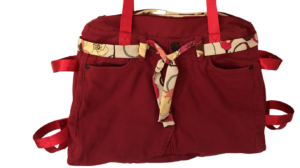 Cranberry reverses to Gisele. 16'x12″x4.5″. Zipper closure. Drink holders adjust. Great sports bag!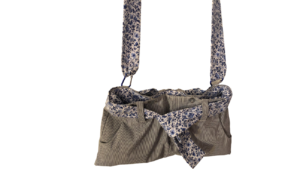 Pin striped denim reverses to Blue Floral 15″x10″ Magnet clasp, fly pocket.
Coral Pink reverses to Salmon Pink Puffs 14″x10″x4″
Embroidered giraffes reverse to fun giraffe & zebra print. 21″x12″. Magnet clasp.
Maroon reverses to Coral Scallops 15″x14″x2″ Magnetic clasp.

Tropical ferns reverse to Aqua Floral 17″x12″x4″ Magnetic clasp. Fly pocket
Sunset Orange reverses to Lima. 14″x12″x4″. Zipper closure. Pocket in fly
TENNIS & PICKLEBALL ~ ~ ~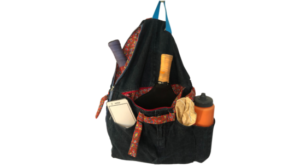 Dark blue jeans with lots of pockets reverse to red floral. 23″x16″x6″. Drinks holder, 12″ floral lined pockets for paddles. 18″ side zipper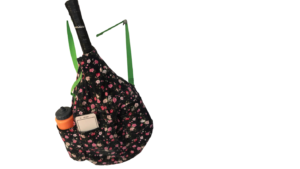 Black floral jeans reverse to tropical pants. 18″ side zipper.
Dark Jeans reverse to large polka dots 22″x16″x6″. Drinks holder, 12″ floral lined pockets.18″ side zipper
Dark blue tiny polka jeans reverse to floral. 23″x20″ Drinks holder in pocket, 12″ floral lined pockets for paddles.18″ side zipper
DUFFLE BAGS~ ~ ~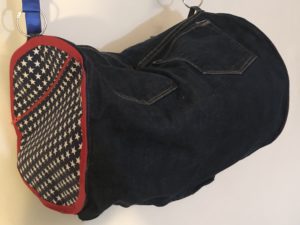 DIAPER BAGS~ ~ ~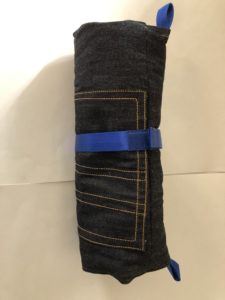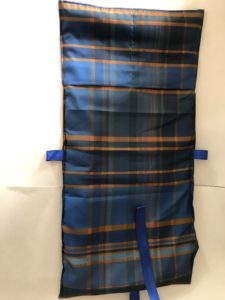 BACKPACKS~ ~ ~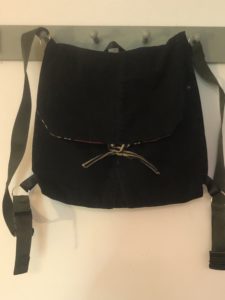 MINI-JEANIES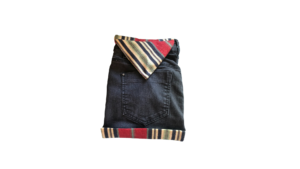 Black Denim & Red, Gold & Green Stripes. 10″x8″. Key pocket behind fly. 5″x3″ pocket inside. Side & rear pockets.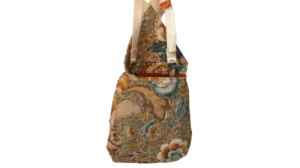 Burnt Orange & Floral. 10″x9″ Key pocket in fly. 5″x3″ pocket inside. Side & rear pockets.
JACKIES ~ ~ ~
Tropical Ocean & Coral (was a sundress.) 18″x14″x4″. Pocket in buttons. 8″ top zipper. 2 9″x14″ arm pockets, magnet clasps.
Floral on black shoulder bag made from a skirt. 18″ at top flares to 23″ at bottom. 20″ straps. 7″x10″ phone pocket at side zipper. 12″ top zip.
Orange & Pink Tropical Bag. 16"x14″x4". 7″x6″ zippered pocket. Semicircular pocket (was shoulder.) 2 5″x7″ pockets with flaps. Great beach or computer bag! 11″ top zipper
SOFTIes

~ ~ ~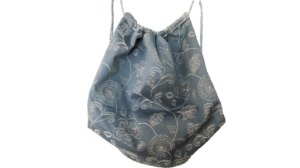 Blue Floral Drawstring 20″x20″ Backpack. Reversible ~ open rings, turn inside out, bring straps to outside, attach to bottom hooks. Also in Gold Damask.
Large sage green & grey corduroy sack. 19″x15″x5.5″. Sturdy braided handle goes through metal grommet. Magnetic clasps. 10″x6″ zippered pocket.
Blue reversible bag 16″x13″x5″. silver straps & edging. zippered top.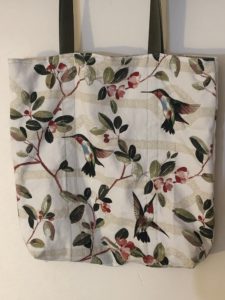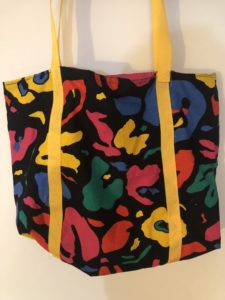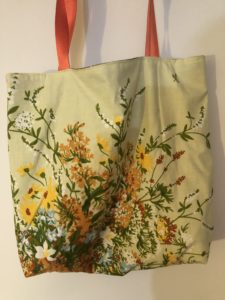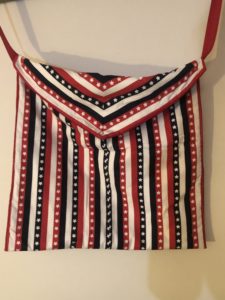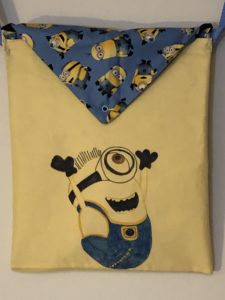 DRAWSTRINGs

~ ~ ~
Something for everyone, these make great Book bags for school, bike riding, etc.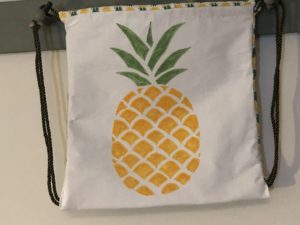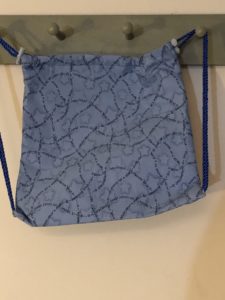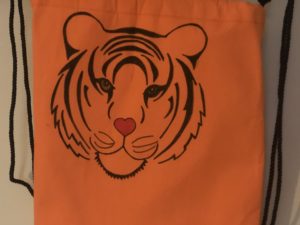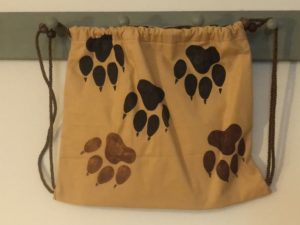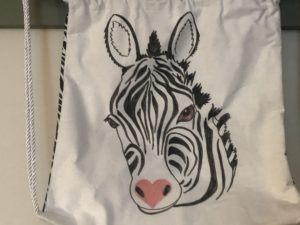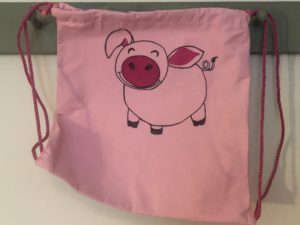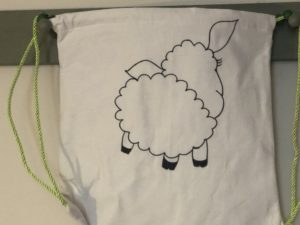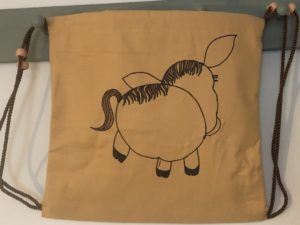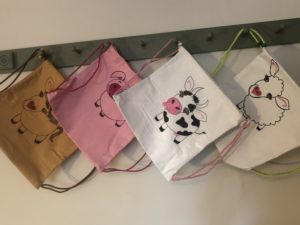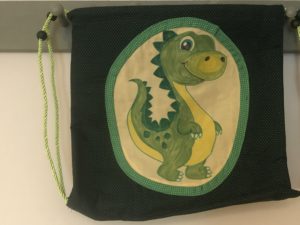 BAGS

DESIGNED BY HAPPY CUSTOMERS
I can replicate any of these, or you can use them as inspiration to create your own design.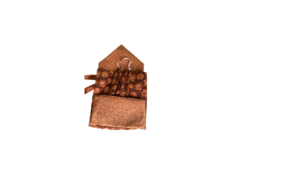 Donna"
Sienna Roses & Leaves
"Melanie" Noah's Ark & Blue Polka
"Laura" Pink & Custom design white floral on black.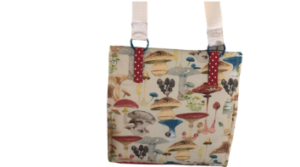 "Sofia" Mushrooms & Red Polka. I love my mushroom bag! The design is super cute and makes a great statement piece. It holds all the essentials and stays super light. I love using it as a Fanny Pack when I go hiking, or even as a mini purse to keep my small things together in a bigger bag. The matching mask makes me feel so put together. I love the quirky little mushrooms. Thank you so much!
Lynda" Beautiful Spring/Summer purse. I love the delicate flowers & custom wallet. The purple straps & buckle I chose look great!
"Mary" Aqua fans & custom design gold on aqua.
"Julianna" My favorite bag! I use it every day and constantly get compliments. I can fit so much in, but it's still so light! I use it as a shoulder bag or loosen the straps to wear as crossbody. The wallet tucks right in when I turn it into a clutch or a fanny pack for a hike. I love that I got to pick out the fabrics and customize it – it's so me 🙂 Very original designs and incredible craftsmanship. I love It! Thank you so much!
JEANIE
"Sofia" Mushrooms & Stonewashed Denim.
I love this bag. It goes with everything I wear and can hold so much. I carry around 2 books, a jug of water, my phone, keys, wallet, snacks, chapsticks and so much more in all the separate pockets. It doesn't even really get heavy. I wear it every single day and feel super secure with it. The denim adds a "90's cool girl" look to anything I'm wearing which I love.
MINI-JEANIE
"Betty" I luv my bag. It's just the perfect size for a shopping trip with girlfriends. The pink fabric with the old denim look is so timeless. I luv it!
SOFTIE
Hummingbird & Floral.
"Jac" Beautifully made bag. Gorgeous fabric. I love that it is reversible. Nice wide sturdy straps so very comfy when carrying shopping. I would definitely recommend.
create your own Design
Fabric is grouped according to color. Please contact me if there is an item you wish to see larger, and/or you need advice on pairings.
Examples below~Woodland Gypsy & Orange Polka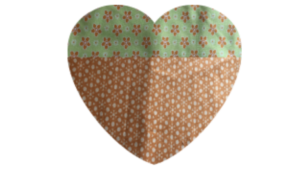 Envelopes & Sweethearts
Choose 2 prints or 1 print & custom design, strap & buckle. Small prints work best.
Jeanies
Choose a pair of pants and a print. Larger designs work best.
A variety of colors from White, Stonewashed, to Dark Blue Jeans, Black, Dark Brown, Faded Grey, and Faded Blue Pants.
Floral, Wide Stripe, Anchor Stripe, Aqua, Turquoise, Blue, Pink, Bright Coral-Pink
Brown Pinstripe, Navy, Black, Blue Polka, Tropical Floral, Black, Tan, Grey, Teal, Green,
Jackies ~
Choose an article of clothing & a print, or colorful solid fabric for Jackies that have a print.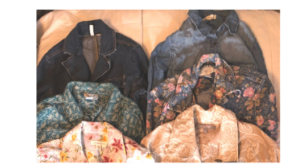 Denim Jacket, Denim Shirt Blue Shirt, Pink Floral Spring Floral, Gold Floral
Gold Cord Turquoise Blouse, Red Dress Green/Black Dress
Softies
Right~ Gold Damask, Green Floral, Green Sheen, Blue Floral, Beige Floral on Black.
Straps
Buckles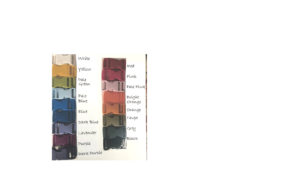 communication
Questions? Contact me via email. Some images come out very small on this website. Please lmk if you need larger images emailed to you. When you have chosen your fabrics and/or item of clothing I can send you a mock up to show you how it will look. We can make any necessary changes before I start sewing. You'll get the bag you want – no surprises.
solianabag@gmail.com
1 Ferry Rd, Unit 21, Hadlyme, CT 06439